I write, tell stories and Listen, too
My books are about friendship and courage. With friendship and courage we can find happiness and joy. It is never easy, and there are many stories to be told. I travel to schools, read from my books and discuss with young people. We talk about the different ways to be courageous and how to be good friends. I think we inspire one another. So, I do not only tell, I listen, too.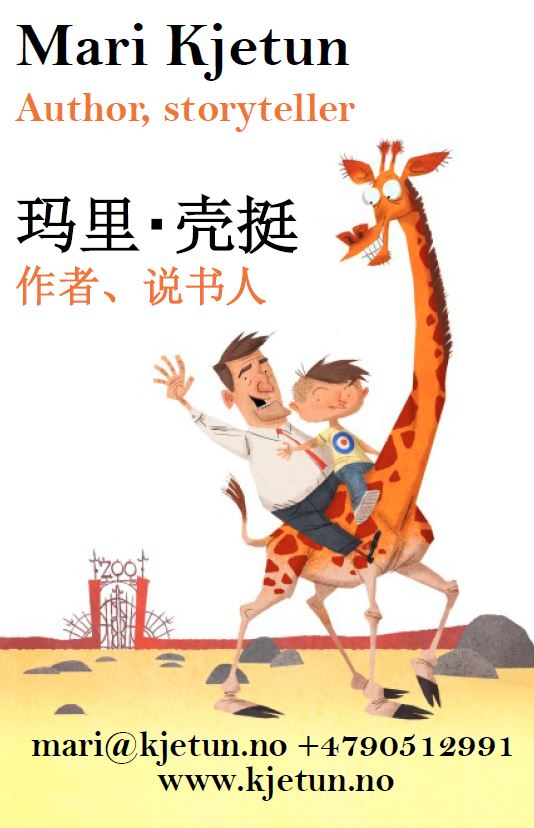 In the Seventh Heaven. NOT!
A novel for avid young readers, about fitting in and how wrong some strategies can turn out to be. A book about physics, spitting cherry pits and struggling to keep your best friend.
It's better never to be picked than to be picked last of all. That's why Lind doesn't hang with any of the girl crews in her class. She doesn't need a crew! But she does need Hilde, who all of a sudden has started showing Britt (or Shit-Britt as Lind decides to call her from now) a lot more attention.
Anyway, Lind is tough enough to follow her own path. She isn't interested in boyfriends and other girlie stuff. Hilde, however, seems to have transformed into a whole different person when they get back from summer vacation. She has become strangely similar to the other girls. So Lind has no choice but to adapt and try to be a more girlish version of her self, even if it contradicts all her ideas of who she really is. And it proves to be difficult, too. Lind gets caught in a web of lies, lots of lies. But all is fair in love and war. And Lind simply HAS to win Hilde back.
Popular books at the Stockholm library
Some young readers have not returned their book on time :)
Max på svenska
Max i djurparken
Djuren i djurparken är uttråkade och vill pröva något nytt. Så giraffen bestämmer sig för att flytta in hos Max. Och Max pappa flyttar till djurparken. Flodhästen och Zebran vill också ut på äventyr och byter plats med två andra pappor. Men blev djuren gladare? Och vad tyckte papporna?
En lättläst och rolig berättelse om hur annorlunda allt kan bli när man byter plats, och hur knepigt det kan vara att gå i trappor om man är zebra.
 
Max i Afrika
Max drar till Afrika på safari. Som tur är får hans kompis giraffen följa med. Livet är härligt! Alla giraffer pratar giraffiska och bananerna är sötare än hemma. Men Afrika kan minsann vara riktigt farligt för djurparksgiraffer. Kan man längta hem när man egentligen har allt man kan önska sig?
En charmig berättelse med en stor portion humor om två vänner som gör allt för varandra. Till och med utsätter sig för hungriga lejon och luriga krokodiler. Snacka om en schyst kompis!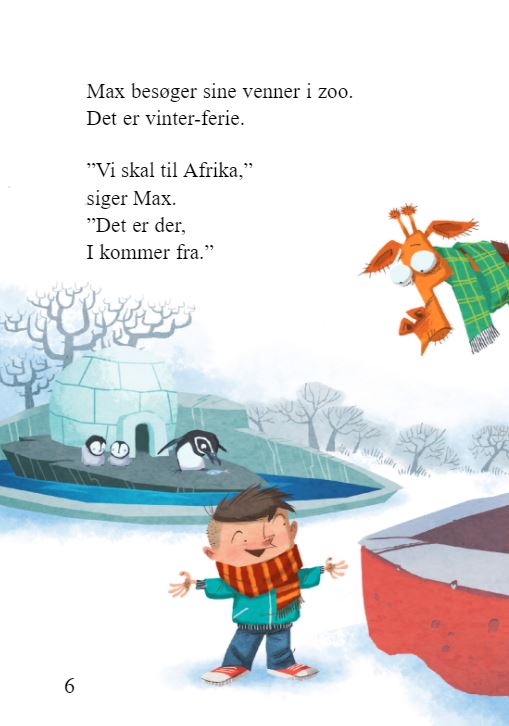 From the Danish e-book edition
max på Dansk
Sjove historier om den dyreglade dreng Max, der altid oplever noget skægt med sine dyrevenner i zoo. Bøgerne handler om venskab mellem børn og dyr og er herligt og humorfyldt illustreret.
Max i Zoo
Max' bedste ven, Giraf, trænger til at prøve noget nyt. Han bytter derfor zoo ud med Max' hjem, og så flytter Max' far ind i Girafhuset i zoo.
Max i Afrika
Max beslutter sig for at invitere Giraf med til Afrika, så han kan se, hvor han kommer fra, og tale giraf-sprog igen. Det er næsten ved at blive for hyggeligt, og Max bliver bange for, om Giraf måske slet ikke vil med hjem igen ...